Who do you say that I am?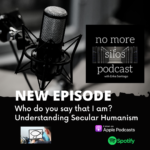 Understanding Secular Humanism
Does cultural Christianity lead to Secular Humanism? This week on "No More Silos" we are asking the question that Jesus asked his crew: Who do you think that I am? Do all Christians agree on who Jesus is? I think it's a question that spans the spectrum of sorta believers to non-believers. Let's talk about it.
Follow and engage – Instagram & Facebook @culturalchristianity
Follow and subscribe at your favorite podcast platform