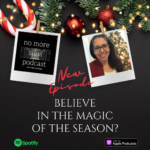 Merry Christmas! Happy Holidays!
In today's episode, we're talking about Cultural Christianity's most important holiday…. Christmas! Christmas registers higher on the list than Easter in our American cultural context. Even non-Christians celebrate Christmas. So this is our biggest event of the year as followers of Christ to embrace the opportunity to share why we have hope and faith in who "little baby Jesus" grows up to become.
Please follow @culturalchristianity on Instagram and Facebook.
Subscribe on your favorite podcast app so you don't miss new episodes.
And most importantly, THANK YOU for listening to "No More Silos" this year! Your support is appreciated.
Links mentioned on the show:
Junia Project's 5-part series on the women of advent
Were there three kings?
The Black Magi
Christmas Carols